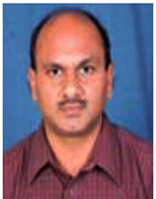 Dr. M C S Madan, Ph.D.,
Professor & Training Placement Officer
Dr.MCS Madan is the TPO of the BVCITS, Amalapuram, taken charge on September 10th, 2007. Prof. Madan, in 1995, obtained PhD from Andhra University,Visakhapatnam.
Having a passion for teaching he made a modest beginning as a Faculty in the Department of Basic Sciences and has been serving BVCITS in various capacities. He has a vast teaching and research experience of over two decades. His area of interest is Environmental Engineering. At present he is the HOD-Civil.
He played a pioneering role in elevating the image of the college during his stint (2007- till date) as the Professor-in-Charge of Training and Placement for BVCITS, Amlapuram. He was instrumental in developing a healthy rapport with the industry and in helping the students in their career search. Besides vast experience in teaching, he is an able administrator and has held several key positions. He has published qualitative research papers in reputed journals. He has been actively involved in efficient organisation of numerous seminars workshops and orientation programs. Sensitive to the needs and innovative trends in the academic arena, he continues to put in solemn efforts to make teaching as well as learning a meaningful and productive experience.
About Training and Placement Cell:
The Placement and Training Cell of BVCITS, was set up with the single goal of bringing together the student fraternity with leading corporates. In the span of twelve years the placement cell has achieved exponential growth and success. Students who have left the portals of our institution have rapidly climbed the corporate echelons in India. The Placement and Training Cell at BVCITS believes in building a strong brand identity for the students to meet the industry expectations.