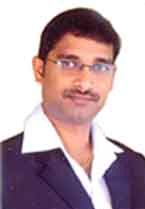 B Venkata Rajesh M.Tech
dfjChairman
India has been recognized as one of the fastest growing economies in the world. Enormous, young, energetic and heritably analytic youth making an immense technical pool of knowledge workers and a huge vibrant domestic market with a global vision provide us a tremendous platform for long term economic growth. In the path to a stupendous growth and development, the role and responsibilities of academic institutions are very crucial. Especially the institutions imparting technical education must focus to produce future leads of technocrats.
At BVC we persistently aim to train and develop knowledgeable engineers, competitive and comparable to the best. Training reinforced with adequate simulative projects and presentations, supported by practical and sound industrial exposure to make pupil well groomed. Innovation, enterepreneurship, personality development, soft skills and communication skills are all emphasized to transform students into competent professionals.
The real test of any Technical Institution is the quality of placements it provides to its students, BVC makes ensure that the talent of its student is appreciated and rewarded. I wish and invite the aspirants to BVC to become a part of the system.